Description:
The Salomon S-lab Sense 5 is a lightweight natural trail shoe. The shoe consists of a 4mm drop, with a stack height of 18mm in the heel, and 14mm in the forefoot. The shoe, weighing in at 7.7oz (size 9), has been the go to lightweight trail shoe for many runners for years now.
Midsole: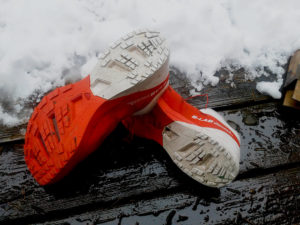 The EnergyCell+ foam used in the midsole keeps the ride of these shoes rather smooth. This means running from road to trail isn't going to mean harshed out feet. On top of that, the foam with the ProFeel Film acts almost like a rock plate that somehow delivers ground feel. This is what makes this shoe so popular, a smooth ride with feel that's also extremely lightweight. The lugs used are very sticky, and hold well on almost any terrain. Even the washed out mud track that is Washington trail running was runnable with very minimal slipping.
Upper: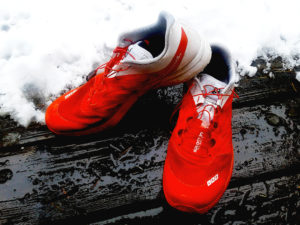 This upper on the S-lab Sense 5 is very breathable. The toe-to-midfoot upper has a nice toe guard for those times when you want to bomb down hills safely, and a lot of open mesh making the draining of water a nice feature. The heel cup is lightly padded, and the heel is lined with white 3D printed material. The upper is almost glove like in the way it wraps around your foot. The mesh used is incredibly thin. The material is so thin you can actually see your socks the upper. Despite the thinness, the mesh is also incredibly durable. A nice feature is that the white  paint used on the heel is actually reflective. It's not the most noticeable is the sunlight, but is actually really reflective when used at night. I'd still use some sort of lighting while running at night, but it's a nice addition. Of course the shoe also comes with Salomon's quicklace system, which allows the wearer to run without worrying about having to retie his/her shoes while on a run. I'll be honest the upper also looks really cool. The bright red and white upper is flashy, and the shoe's overall design is still so iconic, you'll notice this when wearing a pair of  S-lab Sense around other runners.
The Verdict:
I'll be very honest here, I'm incredibly bias when it comes to these shoes. The Salomon S-lab Sense 1 is what I ran my first 50K in, and I've continued to buy Salomon shoes. They are a huge part of my running routine, and they have taken me places I doubt many other shoes could have handled.
With that said, I think the hardest part of owning these shoes is the time it takes to wear a pair. The foam used is very hard and durable. Meaning the shoe can be rough at first, but after about 30 or 40 miles they really find their sweet spot. The price is hard to swallow also. At $180 the shoe is possibly the most expensive running shoe, and sites like Running Warehouse typically don't let their promotions work on the Salomon shoe brand. That said you absolutely get what you pay for. My S-Lab Sense 1 lasted me for well over 500 miles. I've even seen runners in complete destroyed uppers, held together by duct tape, running in these. Once you get comfortable with these shoes, they will last forever.
The lugs don't wear much, even at about 60 miles of use the lugs look almost like new. While there is a "soft ground" version of the shoe, for muddy and fell type trails I don't think it's terribly needed. I've worn my Sense 5 on trails during snow, dry days, and even on days where it's rained for weeks, and the lugs gripped rather well every time. While on extremely muddy days I'll take it much slower I never feel out of control, or crazy amounts of sliding.
If you have the money, spend the money on the S-Lab Sense 5. I know it's hard to believe, but the shoes are worth it. With a trail ultra team that can't be beat, the Salomon brand leading the way in running gear, skimo gear, and alpining gear. If the $180 is just too much check out an older version. Normally last year's version sells for around $50 less (if you can find them).