Description:
The Hoka One One Tracer is a neutral style road shoe. The shoe comes at a 24 heel to 20 forefoot, 4mm drop, 70 Oz  (size 9). The shoe rides softly off of Hoka's popular Pro2Lite midsole.
Midsole:
The Midsole of this shoe is exactly what you'd expect from a Hoka. The softness feels like running on a cloud, leaving your feet feeling fresh even after ten or even fifteen miles. The lug arrangement used is a rather normal road style arrangement. With stiffer, more durable rubber in the middle of the lug pattern, and more cushioned rubber along the outside. The shoe grips well in moderate rain, and varied buffed out terrain. The Meta-Rocker means the shoe feels fast, and keeps you on your toes. This results in leaving the runner wanting to go fast, and the cushion makes the ride enjoyable. Just remember this is strictly a road shoe.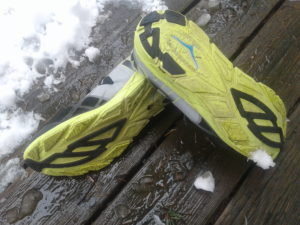 Upper:
The upper on this shoe is where it sets itself apart. The front mesh upper is lined with a few 3-D printed lines to add stability, but most of the front upper is really left untouched. This means water drains from the shoe quickly, and even better breath-ability on those hotter days. The back half of the upper is solidly lined, with a lightly cushioned heel cup, and a nice big billboard on the heel wrapping around to the side. It does come with a slight toe guard that's really just a strip of 3-D printed material. The mesh used has a stretch to it that makes the upper feel secure, yet very comfortable.
Review:
This is a big shoe. There is no denying that.  The stack height is advertised to be the same as a pair of Nike Kigers, this shoe is much bigger. The saving grace of this shoe is a weight, and the upper. I've said it before, I am normally a minimalist  runner, and these shoes are anything but that. The biggest problem being how thick the midsole is. While I think running in these shoes on road is actually very enjoyable, the few times on uneven terrain ended up with me constantly rolling my ankles, and slipping everywhere. I could see these being great for buffed flats areas. Living here in Washington the rain is the biggest problem. While the shoe holds up well in slightly rainy conditions the heavier, it's been raining for a week straight, roads don't go too well with the Hoka One Tracer. But like the description says, this is a road shoe, so being able to handle any trail condition is a plus
Another problem is durability. I've ran maybe a little over one hundred miles in these shoes, and the bottom lugs are already pretty worn down. When you spend over one hundred dollars on a pair of shoes you expect the shoe to hold up for much longer. In fact after the very first five mile run I could tell these shoes would not last nearly as long as I'd hoped. This longevity problem seems to be an ongoing trend with these bigger more cushioned shoes.
Hoka is without a doubt one of the most popular shoe companies in the running world right now, with an amazingly stacked trail ultra team, and a huge road racing presence. They believe that a cushioned shoe can be a fast shoe, and this shoe is very much that. I will give them that this shoe has become my go to road shoe. For those days where I just need to add miles, and stay on the road, I'll gladly wear these. If I think I might have to run on trail or on uneven terrain I will pick any other shoe I have over The Hoka One Tracer. Though I do believe in places that have more buffed, or just not extremely muddy trails, that this shoe could work. This is the shoe Jim Walmsley almost exclusively wears, and he kills it on trail, so it is possible, I just not doable here in Washington for me.
I'd use a promo code to get a pair of these, or some coupon to get a pair of the Hoka One Tracers. My biggest complaint is that the shoe, while decent, isn't worth the price they're asking. If your wanting a Cadillac with a hemi engine, this is your shoe. If you're looking for ground feel, road to trail, or something that will last saddle, this is not it. If the Hoka One Tracer ever goes on sale, I'd gladly buy another pair just for my run commute and road runs.